"The Weekend"
"
Tell me and I forget. Teach me and I remember. Involve me and I learn." ~Benjamin Franklin
Let's have a weekend of

camaraderie

, learning and fun through involvement.
Women, when surveyed about what will make them happy, often choose health, wealth or losing ten pounds.
But they become frustrated because most of them just continue to chase those elusive goals for months or years.


This weekend can help you finally get started towards achieving your goals


We will exer

cise together. We will cook and eat together. We will talk together. And, we will
continue to learn together.
It's one thing to hear about new ideas, but it's altogether different when you actually get to put them in practice. You will go home on Saturday night or Sunday morning with the passion and confidence you need to implement your new ideas.


Come and immerse yourself in a luxury spa-like atmosphere for 2 days while you learn the components of a healthy lifestyle and get off to a running start towards all of your health and happiness goals.
Date
Weekends are tentatively scheduled during the "get-acquainted" call. Weekends begin at 8:00 on Friday morning and end on Saturday evening.
Speaker
Melinda Coker, author of Diet and Cancer: Is There a Connection? and Coco's Healthy Cooking, is a health and weight-loss coach living in Tyler, Texas.
She also coaches women on achieving their dreams - whether they want to get healthy, start a business or find their passion. As the former Director of Career Services at Tyler Junior College, Melinda developed numerous programs and workshops for college students (young people and older adults who were returning to school) on various job search skills. Her If Only I Knew What I Wanted to Do workshops were always the favorite and most well-attended of the semester. Melinda is a serial entrepreneur and has started and grown a number of successful businesses over the years.
Location
The weekend workshop will be held in Tyler, TX.
There are daily flights into Pounds Field Airport (TYR) via Dallas (DFW) on American. Southwest does not fly into Tyler.
You can also fly into Dallas or Shreveport and rent a car.
We are about a 2-hour drive from Dallas, a 90-minute drive from Shreveport, and a 4-hour drive from Houston or Austin.
Attendees
Number of participants will be between two and six women. Workshops for only one person are not available, but the digital workshops are open to single participants.
Hotels
Baymont Inn and Suites - $130/night. You can call the hotel at (903) 939-0100.
Holiday Inn South Broadway - $140/night. This hotel has shuttle pick-up to and from Pounds Field.
Sleep Inn and Suites - $125/night. It is located at 5555 S. Donnybrook, Tyler, TX 75703.
Registration
Tuition for a scheduled week-end is $3,000 for 3 women. Three additional women can be added to the week-end for $900/each. When a date is confirmed and payment is received, your registration will be completed.
(Tuition includes breakfast, lunch and dinner on Friday and breakfast, lunch and dinner on Saturday.)
What People Are Saying about the Weekend
I had a great time. Thank you again for allowing us to stay in your home. It was very nice seeing and visiting with you and the other attendees.
I learned that diet definitely plays a large role in my health. The food was delicious and I enjoyed learning all the new recipes.
I got to try yoga, which I had never done, so enjoyed that part, too.
Most people don't know or realize that your diet can prevent and cure diseases and I'm glad I was exposed to that.
The career module really got me thinking about what I would like to do for a second career or hobby. I know I'm not ready to sit in my rocking chair!
When I first heard about this weekend, I was ready to sign up immediately - then I thought about the long drive. So I invited a friend and we loved guessing what the weekend would be like on the way, and then rehashing the weekend on the way home.
Loved it!
~Penni
I liked all parts of the weekend. I felt like I was always learning something or getting some food for thought.
Discussing how others adapt to the plant way of eating was enjoyable, as well as hearing how other people chose their careers. And, of course, I loved learning new recipes!
I would definitely recommend this weekend to my friends because it was such a valuable source of information - and - it was fun and leisurely.
My only hesitation in signing up was the thought of an 8-hour drive, but I rode with a friend so we just made the travel an extension of the weekend itself.
The weekend was well worth the time and the money!
~Judi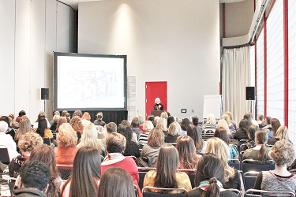 Melinda speaking at The Star of the South meeting in Houston, January 2016.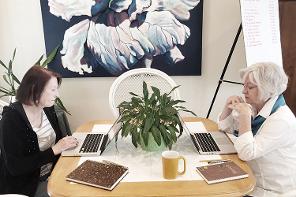 A scene from the January 2016 workshop
©2016 - 2018 with Splash! - All Rights Reserved